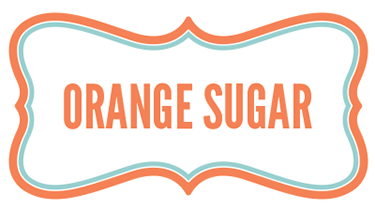 Your much needed dose of orange. All about home decor, crafting, tutorials, furniture and any other random topics that I feel like posting about.
28 April 2009
Thanks to Target restocking the Orla Kiely merchandise I was able to give this canister a good home. It now houses all of my charging cables for cell phones, iPods, etc... Too bad the lids aren't very tight because the big green container would make a great cookie jar.
24 April 2009
I'm not much of a soda drinker, but in the grand old debate of Pepsi vs. Coke, I choose Pepsi. Hate Coke with a passion, it's too fizzy or something. And yes, I can tell the difference. With that said I am absolutely hating the design of the new Pepsi bottle. Not that the old design was that great but whoever did this should be fired! Do you prefer Pepsi or Coke and what do you think about the new bottle?
23 April 2009
This was originally posted by Real Simple and then picked up by Apartment Therapy.

You can file this one away under completely random posts but I love this idea. I'm not sure how it would work in real life, with all the moisture and dust in a bathroom, but it looks nice in the picture. How do you store your TP? I keep one on the roll and the rest in the hall closet.
21 April 2009
Admitting you have a problem is the first step right? I'm a little bit of a compulsive returner. I will go to the store and buy something, then freak out about spending so much money, or decide I don't really like it that much after all, and will take it back and return it. Then I end up complaining that I don't have anything to wear. So, this weekend I went to the mall and bought two pairs of shoes. Still deciding on weather I'm keeping both pairs.

Clark's
Craft
I'll keep these but need a half size up. How can I resist the orange?
Chinese Laundry
Starlet
These would go perfectly with the dress I want from Nordstrom's. But that would involve buying an expensive dress. Might have to return these.
--------------------------------------
I also mentioned in a previous
post
how much I want a little dog of my own. I saw the cutest little dapple dachshund at the mall pet store. (And you don't have to lecture me about how bad it is to buy a dog from a pet store, I know all about
puppy mills
.) I have plenty of time to train a puppy since I'm unemployed but it's probably not such a great time financially. I didn't buy him but have been thinking about how cute he is for days. I'm going to try not to go into pet stores anymore because all the dogs are just so cute and I feel so bad for them and want to rescue them all.
Which got me thinking about all the stuff I could buy for my puppy. Which got me thinking of one of my favorite etsy shops:
Annie's Sweatshop
. She makes all kinds of great dog products and uses her dachshunds to model them.
--------------------------------------
I went to the flea market on Sunday which was a complete bust. Where was my vintage
Saarinen table
for $50? I'll probably have to venture to an NYC flea market for that kind of find. No vintage
Pyrex
or
Catherine Holm
either. :(
13 April 2009
Birch Wallcovering in Damson
Prestigious Textiles
is a UK based textile company. I don't recall how I stumbled upon them but I absolutely loved what I found.
12 April 2009
11 April 2009
I took a day trip to NYC yesterday with my sister. Not really for any particular purpose, simply because I was bored and had nothing better to do. I was in the background on the Today show for about 2 seconds. Went to the 24-hour Apple store. (If you are ever in the area and need to go to the bathroom, you can go there.) My goal was also to go to West Elm since I get their catalogs but have never been in an actual store. Mission achieved, although I have been underwhelmed by their selections lately. There are always lots of places I want to check out but never get to most of them. I've decided the best way to navigate NYC is probably a Vespa and GPS unit. We walked around in a circle way too many times. I always wonder about people that move to Manhattan from suburbia and how long it takes to get acclimated and be able to find your way around without getting lost. Probably a long time.
08 April 2009
I HATE the job application process! Why must I submit a resume and then fill out a job application stating much of the same information over again? Are they playing mind games? Is it just to show you that if they hire you, they own you and you must do whatever they say regardless of how pointless/redundant it is? Writing cover letters and resumes and the whole job application process ranks right up there with cleaning the bathroom on my list of things I would rather not do. But unfortunately it must be done.
06 April 2009
Look at this absolutely gorgeous headboard for sale on
ebay
right now. This will be one of those auctions I regret not buying like the
console table and mirror
I still can't get out of my head. I already have a
headboard
though and literally have no room for it. Let one of my many losses be your gain.
03 April 2009
Who doesn't like to sing in the shower? And what better way to protect your iPod and get your tunes into the bathroom, than this fun little gadget from Zumreed. The drop speaker used to cost $49.99 but the price has since been raised to $64.99, a little too steep in my opinion. But I guess it's also good for the beach and poolside. I bet you know which color I want, it also comes in blue, white and pink. Available at
Gizmine
.
02 April 2009
Even though I live in New England I am not a fan of cold weather. Maybe I just don't have enough fat on my body like everyone likes to tells me but I tend to freeze more than most people. I especially hate having cold ears and I can't wear hats thanks to my crazy curly hair. Why am I bothering to talk about Winter when Spring is here? Because now is the best time to get deals on cold weather apparel for next year. I got these Ugg earmuffs as a gift this Christmas and they probably cost twice the price. On sale for $49.99 at
athleta
.